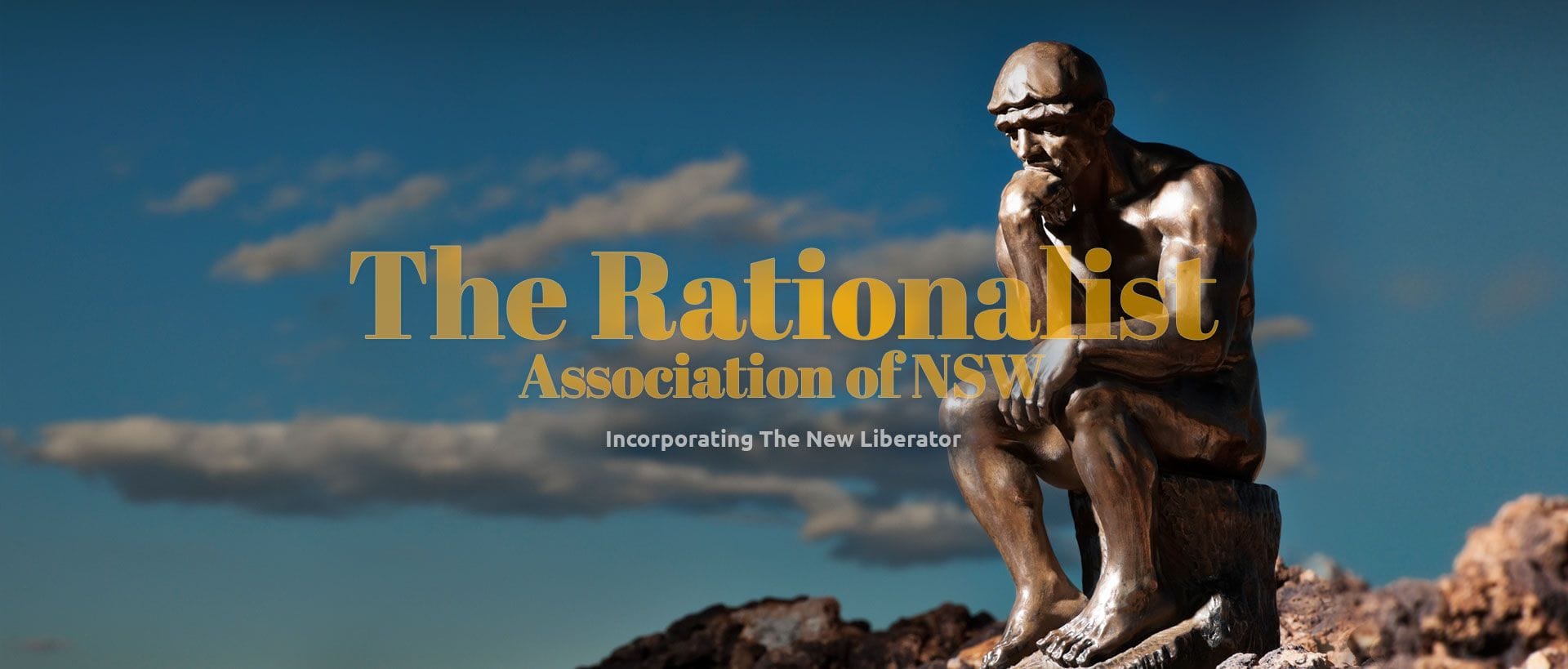 Vale Tony Voyce
I first met Tony Boyce on the Sydney Domain Speakers' Corner in the early 1980's. Tony was a fervent atheist and scathing of the Catholic Church and Christianity. He was a long time member of the Rationalist Association of NSW. His politics was of the left but he was not a supporter of any one party..
See here for Steve Maxwell's The Life of Tony Boyce
/images/Vale-Tony-Boyce.pdf?m=294699f77da3a7e4216a5fe2ac0f228a
The Sophistry of the Religious Discrimination Bill
We are asked to believe that words that are commonly understood to refer to opposites, are now to be understood asmeaning the same thing.
Australian Christian Lobby (ACL) supports appeal from Doctor's suspension for statements of violence
The ACL demands that Christians can throw the integrity of their profession into doubt, be it medicine or sport, by ignoring the effects of this vitriol on both other members of their profession and the public.place this content with your own.
Dear Prime Minister, you need to do your research.
Secularism is NOT a belief like any other religious or non-religious life-stance. It is a political process. It is not a belief: it is the right to have or not to have one. The concept has been wrongly equated with atheism.
The UN Human Rights Council : How Effective is it?
Although seemingly committed to the concepts of equality, individual freedom and the rule of law, states with atrocious human rights records have secured membership and great influence on the Council, established to "uphold the highest standards in the promotion and protection of human rights"
Despite Australia's membership of the UN Human Rights Council (UNHRC) .he Council's working group on arbitrary detention has condemned as arbitrary and illegal our indefinite incarceration of refugees and asylum seekers, issuing critical statements on five individual cases of detention in a year. But those unlawfully held remain in indefinite detention, where they have been held for up to nine years without charge..
DR MAX WALLACE - SOFT THEOCRACY
DR MAX WALLACE - ATHEIST CONVENTION
NATIONAL SECULAR LOBY- 29 APRIL 2019
HUMAN RIGHTS UNDER ATTACK IN AUSTRALIA, SAYS THE UN
The Australian Government has been strongly criticised for the "chilling effect" its actions have unleashed on human rights defenders in Australia in a UN report released last week, and Special Rapporteur Michel Forst told the UN's Human Rights Council he was "astonished" to observe "mounting evidence of regressive measures" being pursued by the Government.
Read Article.
PREVENTING CLIMATE WARMING A MATTER OF HUMAN RIGHTS
The Intergovernmental Panel on Climate Change (IPCC) in 2014 unequivocally confirmed that greenhouse gas emissions are the primary cause of climate change. This, it determined would result in extreme weather events and natural disasters, rising sea-levels, floods, heat waves, droughts, desertification, food and water shortages, and the spread of tropical and vector-borne diseases as some of the adverse impacts of climate change.
WE DON'T NEED A 'RELIGIOUS FREEDOM' ACT
It's already well protected! Marque Lawyers managing partner Michael Bradley called the proposed Religious Freedom Act "an entirely unnecessary law", arguing that no one has yet established a clear case for its enactment.
Rather than recognise the indivisibility and universality of human rights, the bill privileges one human right over all others. It will make life excessively complex and uncertain for employers, sporting organisations and basically everyone except religious bodies.
http://meg-wallace.blogspot.com/2019/10/we-dont-need-special-protection-of.html
CHAPLAINCY PROGRAM IN PUBLIC SCHOOLS LEGALLY QUESTIONABLE
Each state makes it illegal to discriminate against a person on the ground of religion in employment decisions. These anti-discrimination rules apply to public schools and their hiring decisions.
Read Article
Also, federal and some state governments have STOPPED COUNTING COMPLAINTS against the school chaplains program and NO STATES KEEP RECORDS of the faith of chaplainns.
Read Article
BELIEVE IT OR NOT - IT'S MY RIGHT!
An EU campaign has been launched by religious and non-religious groups promoting freedom of belief . They absolutely defend the right of belief through secularism, but not the right to impose that belief on others.